Selliner Seebrücke
S
ellin is famous for its seaside bridge, which is located directly at the main beach as an extension of the Wilhelm Street. It is about 200 meters away from the
house Eintracht
.
There are restaurants in the bridge house and you can take part in boat trips to other seaside towns and to the chalk cliffs from the pier.
The history of the seaside bridge starts in 1906. It was completely pulled down in 1978 because of storm and ice damages. From 1992 on, it was rebuilt after the historic example. In 1998, it was finished with the completion of the bridge house.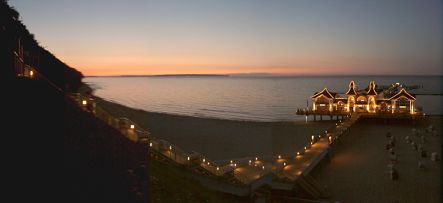 The seaside bridge in the evening with illuminated bridge house
Click here for an interactive panorama view of the beach and the seaside bridge!
Der Selliner Südstrand
From the main beach, you can reach this nice sand beach by a high shore trail, for example. You can also walk the whole way directly at the water. The beach continues to the next towns, Baabe and Göhren.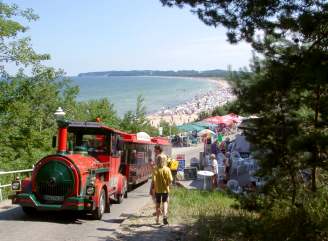 View towards the southern beach and the beach promende. In the foreground: the "Bäderbahn".
The Sellin Lake
The Sellin Lake, which is connected to the baltic sea, offers water sports possibilities. You can rent rowing boats or a space for your own boat here. Furthermore, some boat trips start from here.